Details
Single phase Mini Power Center MP1C7H-K combine three individual components into one NEMA Type 3R enclosure: a pre-wired primary and secondary main breaker, an encapsulated single-phase (Type EP) or three-phase dry-type transformer or dry-type shielded transformer, and a secondary distribution load center with Aluminum Bus Push-On main breaker. Inter-connecting wiring is completed at the factory. Mini Power Centers are used wherever there is loads requiring 208Y/120V 3 phase or 120/240V single-phase. Secondary branch brakers are not provided.

Preliminary General Drawing. (Dimension, inch).
*All information and images presented here is based on preliminary data or design and may be changed without prior notice.
Request Drawing Proof to confirm dimensions from Optional Feature tab, if it is critical.
Mini Power Center MP1C7H-K Winding Schematics: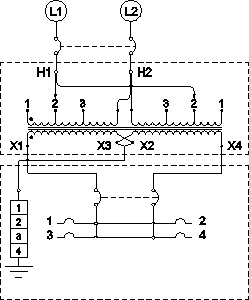 Full Specification
Catalog No.
MP1C7H-K
Product Type
Mini Power Center
Phase
Single
Power Rating
7.5 kVA
Frequency, Hz
60
Number of Circuit Breakers
8
Vector Group
II
Primary voltage
480 Volt
Primary Voltage Taps
0%; ±5.0%
Secondary Voltage
120/240 Volt
Winding Conductor
Copper
Temperature Rise, °C
130
Insulation Class
200 (N)
Insulation Level, (B.I.L), kVA
10
ANSI/IEEE Impedance, %
6.0-7.0
Sound Level, dB
40
Standards, Certifications, Compliances:
CSA Standard C22.2. No.47 Air Cooled Transformers (Dry Type)., CSA certified. File No. LR34493
Seismic Qualified SDS=1.60g 2/h=1.0 OSHPD OSP-0109-10 for USA zone 4 and Canada zone 6.
UL Listed. File No.E108255., ISO9001 Quality Certification.
Enclosure Type
Nema 3R. Outdoor Non-Ventilated Weather resistant steel enclosure (IP54)
Weight, Lbs
190.0
Country of Manufacture
Canada
You may also be interested in the following product(s)