Home

/

Distribution Transformers
Distribution Transformers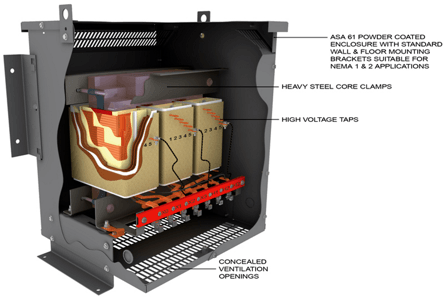 Distribution Transformer is an electrical isolation transformer which convert high-voltage electricity to lower voltage levels acceptable for use in homes and business. A distribution transformer function is straightforward: to step down the voltage and provide isolation between primary and secondary. Electrical energy is passed through distribution transformer to reduce high-distribution voltage levels down to end-use levels. Nearly all energy passes through at least one distribution transformer before being consumed by an end-use appliance, motor, or other piece of equipment. Distribution transformers are found in all sectors of the economy: residential, commercial, and industrial
There are no products matching the selection.
Make your selection from the choice below:
Manufacturing plant will be closed for SUMMER VACATION from July 29. It resumes production on Aug 12 2019. Please keep mind that some orders completion dates could be extended to the end of August.
Do not be discouraged if you see that a transformer is not in stock and available in 3-5 weeks. We never fail to ship on time. We send updates during production. Once the order is shipped you will receive tracking number.
You have no items to compare.
You have no items in your shopping cart.
2016. Minimum efficiency level for Dry-Type Transformers in the USA
The U.S. Department of Energy (DOE) is adopting a new set of minimum efficiency standards for Dry-Type Transformers that are sold into the United States. The new rule takes effect on January 1st, 2016, and it is for the United States only. The rule replaces the current minimum efficiency levels, which are known as the "NEMA TP-1" or "DOE 2010" efficiency levels with DOE 2016 effciency level.
With DOE 2016, the impact on cost approximately 20 – 50% more.