Details
Three phase Line Reactor 3PR-0130C5H introduces specific amount of inductive reactance (impedance) into a circuit. This inserted impedance reduces line harmonics, moderate line transients, holds down spikes of current, limit peak current, absorb power line disturbances which could damage inverters, variable speed controllers or other voltage sensitive equipment.
Line Reactor 3PR-0130C5H Winding Schematic:

Preliminary General Drawing. (Dimension, inch).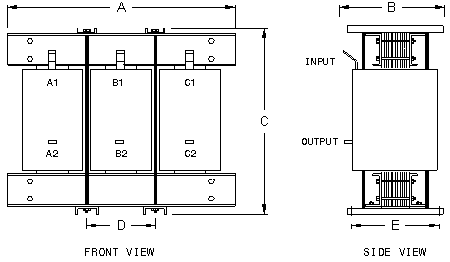 Basic Dimesions: A=12.00"; B=8.50"; C=8.50"; D=3.50"; E=5.75".
*All information and images presented here is based on preliminary data or design and may be changed without prior notice.
Request Drawing Proof to confirm dimensions from Optional Feature tab, if it is critical.
Full Specification
Catalog No.
3PR-0130C5H
Product Type
Line Reactor
Phase
Three
Maximum Current
130 Amps
Voltage range
480-600 Volt
Reactor Power Rate
75 hp
Frequency, Hz
60
Inductance, mH
0.35
Impedance
5%
Current over load capability
150% for 1 min
Saturation Level
250% of rated current (50% rated inductance minimum at 350% rated current).
Vector Group
III
Winding Conductor
Copper
Temperature Rise, °C
115
Insulation Class
180 (H)
Insulation Level, (B.I.L), kVA
4
Sound Level, dB
70
Standards and Certifications
CSA Standard C22.2. No.47 Air Cooled Transformers (Dry Type)
CSA certified. File No. LR34493 , UL Listed. File No.E108255.
ISO9001 Quality Certification.
Enclosure Type
None. Open construction
Weight, Lbs
73.0
Country of Manufacture
Canada