Details
Single phase Isolation Transformer SC15H2-K2/Z3 is sealed in silica sand and resin solid massfrom each other. Secondary neutral to ground bonding eliminates common mode noise, providing an isolated neutral-ground reference for sensitive equipment.
Isolation Transformer SC15H2-K2/Z3 Winding Schematic: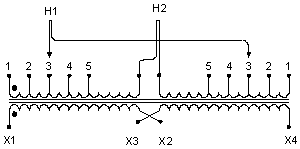 Preliminary General Drawing. (Dimensions in inches).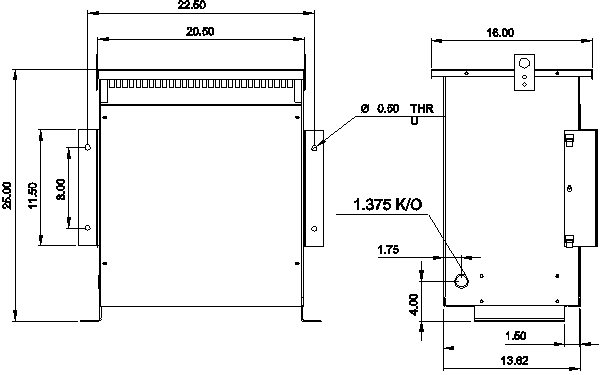 *All information and images presented here is based on preliminary data or design and may be changed without prior notice.
Request Drawing Proof to confirm dimensions from Optional Feature tab, if it is critical.
Full Specification
Catalog No.
SC15H2-K2/Z3
Product Type
Isolation Transformer
Phase
Single
Power Rating
15 kVA
Frequency, Hz
50/60
Vector Group
II
Primary voltage
440 Volt
Primary Max Current, Amps
34
Primary Terminals
H1-H2
Primary Terminal Lugs
2-14 AWG
Primary Voltage Taps
none
Secondary Voltage
110/220 Volt
Secondary Max Current, Amps
136/68
Secondary Terminals
Interconnect for: Lower Voltage: X1 to X3 and X2 to X4, or Higher Voltage: X2 to X3
Secondary Terminal Lugs
2/0-6 AWG
Winding Conductor
Copper
Temperature Rise, °C
130
Insulation Class
200 (N)
Insulation Level, (B.I.L), kVA
10
Efficiency at 35% Load, %
98.23
ANSI/IEEE Impedance, %
4.5-5.5
Sound Level, dB
40
Standards and Certifications
Transformer Efficiency compliance: Canada CSA CSL3. USA DOE-2016.
CSA Standard C22.2. No.47 Air Cooled Transformers (Dry Type)
CSA certified. File No. LR34493 , Seismic rated for USA zone 4 and Canada zone 6.
UL Listed. File No.E108255.
ISO9001 Quality Certification.
Enclosure Type
Nema 3R. Outdoor ventilated Weather resistant steel enclosure
Weight, Lbs
190.0
Country of Manufacture
Canada